Special Section in physica status solidi (b): Advanced Magnetic Oxides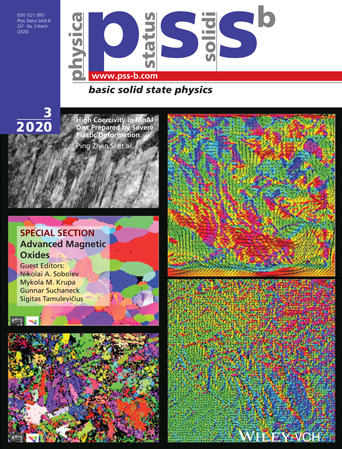 ---
Invitation to Authors that presented their work at IWAMO 2019
New Submission Deadline:

30 June 2019
Related to the workshop that took place in Aveiro it is planned to publish a special issue/topical section (no proceedings) in physica status solidi (b). In collaboration with the Guest Editors and the pss Editorial Office, Authors that presented their work at IWAMO 2019 are cordially invited to contribute an Original Paper or Feature Article (topical review).
Submission instructions available in the Call for Papers IWAMO 2019 pdf document:



We look forward to receive your contributions!
Nikolai A. Sobolev, Mykola M. Krupa, Gunnar Suchaneck and Sigitas Tamulevičius (Guest Editors)
Marc Zastrow (pss Editor) and Stefan Hildebrandt (pss Editor-in-Chief)